Investing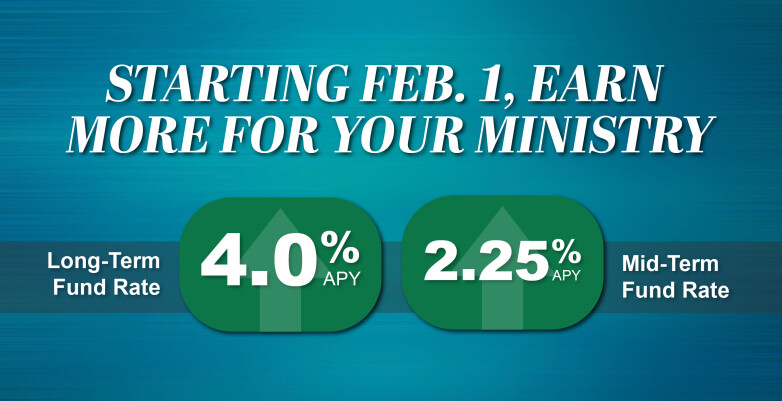 Doing ministry in the 21st century is expensive. Navigating the ever-changing financial landscape and markets can be very confusing and challenging. We are here to help.
For more than 65 years, The Baptist Foundation of California has been a trusted partner for churches, Christian organizations, and individuals who desire to honor the Lord with their wealth. We work with faithful stewards in creating plans that allow them to accomplish their ministry objectives. From conservative fixed-rate options to more growth-oriented portfolios, we are positioned to meet the needs of those on the front lines of ministry.
Let us help increase your ministry impact. Schedule a consultation today.
Download Our Investing Fact Sheets
Global Equities Fund
Long Term Fund
Mid Term
Primary Alternatives Fund
Information for Participants 2023
Investment Policy 2023
Trust Division Fee Schedule 2023
Open a new church account
Please use the fillable PDF below and once completed, email to .
Investing Philosophy
We believe in time-tested fundamentals of asset management coupled with modern analytics all executed within a Christian worldview. We desire to know our clients deeply so we may work with them to craft the best possible solution to meet their needs allowing them to be faithful and obedient stewards.
We proactively monitor and track our portfolios to ensure that they are still appropriate for meeting our client's goals and objectives. Additionally, we are also in close contact with our clients to monitor their situation. Portfolio changes may be warranted due to changes in either the investment landscape or the client situation. We take care in selecting our underlying managers to fit our client's objectives.
Where administratively possible we screen our holdings to ensure Biblically Responsible Investing. In addition, we operate with a commitment to excellence, transparency, and integrity and commit to providing our clients the high-level experience they deserve.
Missional Impact Investing
We offer fixed-income investments that are invested in loans made by the Foundation to churches and other Christian ministries in CA and around the US. These funds provide competitive fixed rates of return to investors and are a way for our clients that are blessed with financial resources to bless other ministries in need of funding.
FAQ's
How can churches invest with the Foundation?
Churches can use any of our investment management options. Primarily, churches use our fixed rate options for their reserves, building funds, or other savings they may have. When churches who are blessed with financial resources put their assets with the Foundation, those funds are then lent out to other churches. In this way, churches earn higher rates for themselves while blessing other churches who are in need of funds.
Can individuals invest with the Foundation?
Individuals can invest with the Foundation, but only through charitable giving vehicles, such as Charitable Trusts, Gift Annuities, and Donor Advised Funds. At the current time, individuals cannot invest directly in our fixed-rate accounts or other investment options.
Are you available to explain this to our church Elders / Finance Committee?
Of course! We frequently meet with church committees to describe how our investment options work and to answer their questions directly. Please contact us if you would like to schedule a meeting with your church.
Are the fixed rate accounts FDIC insured?
No. Our funds are not FDIC insured or guaranteed by the Foundation. The assets in the accounts are invested in a combination of mostly church loans and bonds secured by church property, along with a smaller portion in other fixed-income investments (govt and corporate bonds).