BFCal's board of directors gathered in February 2023 to celebrate the Foundation's success in 2022. In his message to the board, Dr. Jonathan Jarboe reported that assets under management grew from $204 million in 2021 to $216 million in 2022 with new assets under management surpassing the previous year. The Foundation also distributed a record $13 million to Kingdom causes in 2022, a $4 million increase from the previous year. Despite the rise in interest rates, BFCal's lending division tripled its production, providing more than $32 million in loans to churches across the nation.
Dr. Jarboe also highlighted the creation of four new endowments in August 2022: The CSBC Pastors Conference Endowment, the Mission:Dignity California 13th Check Endowment, the CBU Double Major Scholarship, and the Karen Denise Watson Memorial Endowment benefitting Gateway Seminary students who intend to become international missionaries. BFCal provided
$70,000 to each endowment, resulting in a total contribution of $280,000.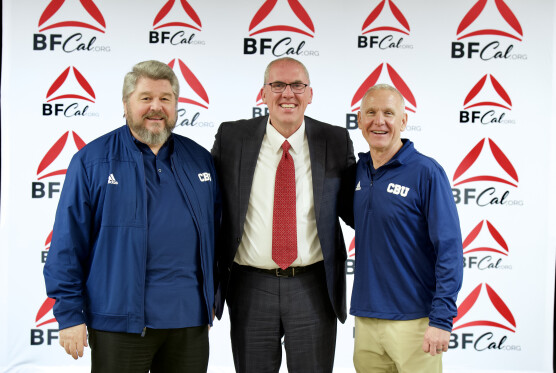 CBU President Dr. Ronald L. Ellis, SBC President Dr. Bart Barber, and BFCal President Dr. Jonathan Jarboe at the February 2023 BFCal Board Vision Dinner.
The February 2023 Board Vision Dinner was held at California Baptist University where board members had the chance to hear from Dr. Ronald L. Ellis, the president of CBU, about the success the university has experienced in enrollment, academic programming, and athletics. The keynote speaker was Dr. Bart Barber, the pastor of First Baptist Church, Farmersville, Texas. He was elected president of the Southern Baptist Convention at its June 2022 annual meeting in Anaheim. In his speech, Barber shared stories about the legacy his father left as a financial supporter of Kingdom causes while highlighting the importance of state foundations as they steward the resources for Gospel ministry. The evening ended with fellowship and excitement as board members, staff and guests gathered in the Dale E. and Sarah Ann Fowler Events Center to watch the CBU Lancer Women's Basketball team compete successfully against the Utah Valley University Wolverines.