It's 2 p.m., but it feels like 3 a.m. as Pastor Dale Garland steps off the bus into the afternoon sunlight, taking in the aromatic breeze coming from the nearby Mediterranean Sea.
Malcolm, the group's guide, is pleased that traffic has not put them behind schedule. Dale joins the rest of the group aboard the first of two buses as they make their way around Malcolm, receiving an introduction to the next site they're about to explore.
It is the ruins of the ancient city of Caesarea Maritima, built by Herod the Great in the first century B.C.
While it may not look like much today, it was a thriving port during the time of Jesus and the center of Roman life in Palestine. It had markets, sports stadiums, public baths, temples to pagan gods, and a royal palace that overlooked the ocean.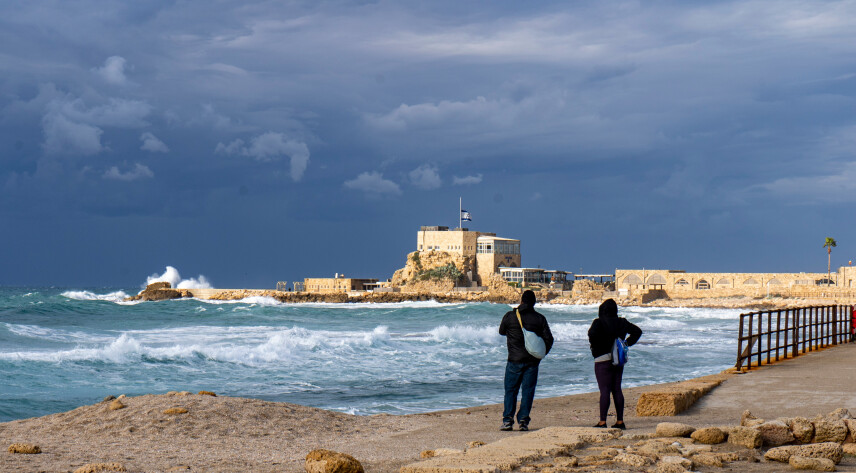 Members of BFCal's Holy Land Tour group explore the ruins of Caesarea Maritima on the Mediterranean Sea.
Malcolm leads the group through the visitor gates and into the amphitheater, built in the style that was popular among Greek and Roman cities at the time. They find a collection of open seats high enough to see the open sea ahead. Malcolm pulls out his Bible and flips to Acts 23, which tells the story of Paul the Apostle's two-year imprisonment in Caesarea Maritima.
Before sailing to Rome, Paul gave a defense of himself and the gospel of Jesus Christ to the Roman governor, Porcius Festus, and the Jewish king, Herod Agrippa Il. It was a public event that took place inside this theater two thousand years ago.
When asked what place in Israel made the biggest impression on him, Dale didn't name the usual places in Jerusalem, Bethlehem, or the Sea of Galilee. It was the theater at Caesarea Maritima. "We walked down to the bottom of the theater and stood where Paul would have given his defense by the Mediterranean," he said, "I can now read that story and picture it clearly because I was there."
| | | |
| --- | --- | --- |
| | | |
| Malcolm Cartier of Maranatha Tours shares the history of the Caesarea Maritima amphitheater. | | BFCal president Dr. Jonathan Jarboe (left) and Pastor Dale Garland (right) stand in front of the Old City of Jerusalem. |
For Pastor Gregory Perkins of The View Church in Menifee, it was the "I was there" experiences that have had the greatest impact on his preaching and teaching: "When I speak about the Garden of Gethsemane, I've been there. When I teach about Jericho, I've been there. When I speak about the Dead Sea, I've been there. When I speak about the Temple Mount, I've been there. These 'I've been there' experiences have enriched my ability to provide proper and effective biblical context."
Several pastors currently serving California Southern Baptist Churches were among the 95 people who traveled with BFCal on its eight-day
trip to the Holy Land in 2023.
For Dr. Jonathan Jarboe, who served as the tour leader, it was an opportunity to invest personally in California pastors. He says, "Part of our mission
at the Foundation is to serve pastors, and we hope they had an experience that impacts their ministry and their congregations in a profound way."
Pastor Mike Newman of LifeWay Baptist Church in Santa Paula opted to take members of his congregation with him saying: "My primary reason for going to Israel was to walk alongside the group from our church. I wanted to walk the steps of Jesus with my church family." Pastor Newman encourages other pastors to consider taking their congregations to Israel: "Walking the roads with people from your church is a great benefit to a pastor".
"Any time you can share experiences of spiritual significance, your relationships will deepen," says Pastor Steve Garcia of Sunrise Church in Rialto, who brought a member of his church staff. "You are able to process things together. That is important because you take in so much and you think you will remember it all, but it's easy to forget. Having your spouse or a friend there to talk about all you see and do together is really helpful."
Another benefit that each pastor mentioned was the time of fellowship with BFCal's staff. "I get to be with my peeps," said Pastor Dale. "I have known many of them for years and have even served on staff with people like Dr. Jarboe."
For Pastor Gregory, it was the sense of community that BFCal brought, as well as the high degree of planning and organization. "I wanted to have a life-changing experience with my Foundation family, with people I am close to," he said. "It was also the most organized trip I have ever joined."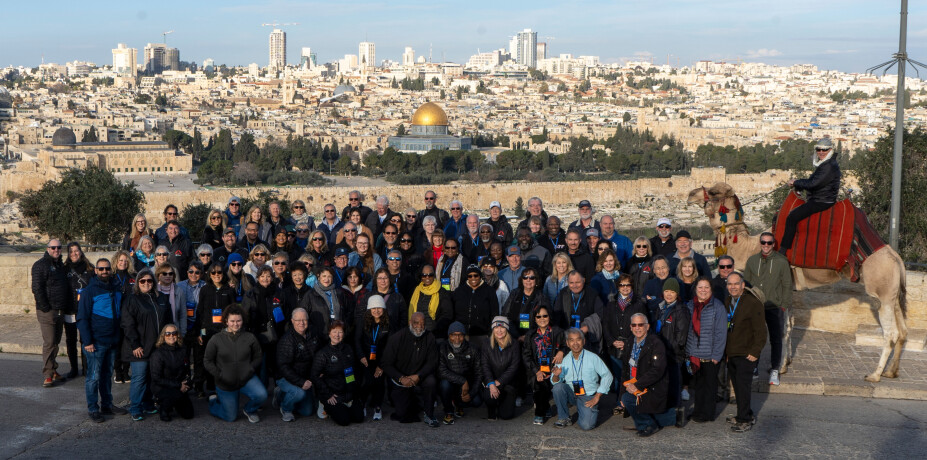 BFCal's Holy Land Tour group poses on the Mount of Olives overlooking Jerusalem with Dr. Jonathan Jarboe on camelback.
When Pastor Dale returned to the pulpit, his congregation noticed something was different about him. He said, "I think I have experienced revival in my own personal life, through the sabbatical I took before leaving for Israel, and what I experienced there. It's not so much what God taught me as what he did in me while on the trip."
That renewal is also making its way into the hallways of his church, Hope in the Valley Baptist Church in Hemet. Garland says, "We are seeing some awesome things happen in our church. Every Sunday, the front of the church is full of people coming forward to pray. We have baptisms happening every week. God is doing an amazing work right now."
---